Vishal Jadhav, Co-Founder, Head of Experience Design & Strategy at Prismic Reflections. Prismic Reflections® is an award design studio that focuses on Strategic User Experience & Brand Identity Design. With over 15+ Years of experience in creating Digital Experiences to help people, businesses, products & brands to solve their problems & effectively communicate with their audience.
If it's not growing, it's not a business!
Despite the size of the business, small or large enterprises, every business strives for growth & betterment. It could be in revenue, client satisfaction, market value, brand image, employee satisfaction or in any other area.
This blog post will focus on the power of strategic design and the need for designing complex systems those plays a pivotal role in speeding up business processes. Also, to make this article more focused towards enterprise applications specifically, we will for now, keep the consumer applications excluded.
This is not for those who want to learn UX/UI Design but interested to know how to use design expertise to make the business process more efficient and profitable.
What is an Enterprise Application?
Enterprise Application (or software), in simple words, are those applications, utilities or tools which are made for a specific set of users within the organization or for another organization/businesses to solve problems and complete the specified tasks in their operations. (business to business and or within the business)
For example, you can consider, back-end system for call centre staff, HR Management, Billing & Accounting software, Patient record tracking & management in hospitals (CRM), Trading software in financial technologies, LMS for corporates, email marketing systems, project management tool, ERP, Messaging & Collaboration system etc are all enterprise applications.
Need for Design/Redesigning the UX/UI for Enterprise Applications. A Big Why?
There is no more secret that high-performing companies from Fortune100 have put users & their experience on top in their priorities. There must be a good reason why these big brands came to this conclusion after investing a lot of time, money & efforts in research.
Just not to follow this conclusion blindly, we will look into the WHY there is need to design/redesign overall user experience through strategic thinking.
1. Feature/System Centric Vs User Centric platform
There was a time when tasks were performed by humans. Information technology and e-commerce boom excited businesses to automate all possible manual work through software systems.
In today's world, for almost everything, there is an app or software system to accomplish. Automation, as a basic need, is already met. All the systems & software are coded and available either in the repository of codes, just to plug and play. So what's the challenge now?
I believe its the experience – User/Customer experience. And there are we and market leaders are focusing. It's a big shift of any software application from being feature rich or system centric to experience rich. Finally, everything is boiling down to user experience, how usable, effective, satisfactory, delightful & unique it is than other 10 similar options available in the market.
2. Efficiency Matters
How businesses use their human resources efficiently? And how efficiently human resources use their time? In today's competitive world, the efficiency of every employee, when he/she perform a particular task within the organization affects the whole business process. Design for efficiency is the technique can remarkably improve the efficiency of the user.
3. Productivity Improvement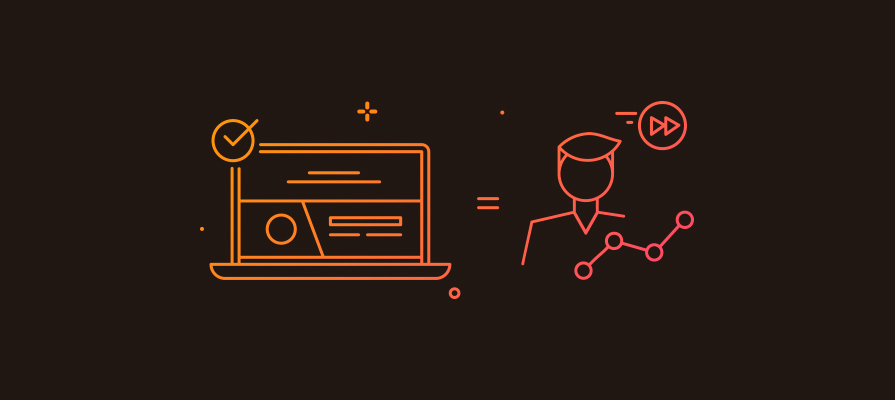 All businesses are investing in different programs, training sessions and methodologies to improve the productivity of employees. The tool that they use, (in the context of this article, a software application) can affect productivity ratio a lot. If its designed for maximum productivity (for e.g. minimum steps with more logical mapping to use cases to complete the task) more production or processing can happen in much lesser time. And that finally save the total number of resource engagement cost remarkably on a monthly or yearly basis.
In our observation, where we have consulted or redesigned the software applications, reported the improvement in productivity of users from 10% to 30%.
4. Sense of Satisfaction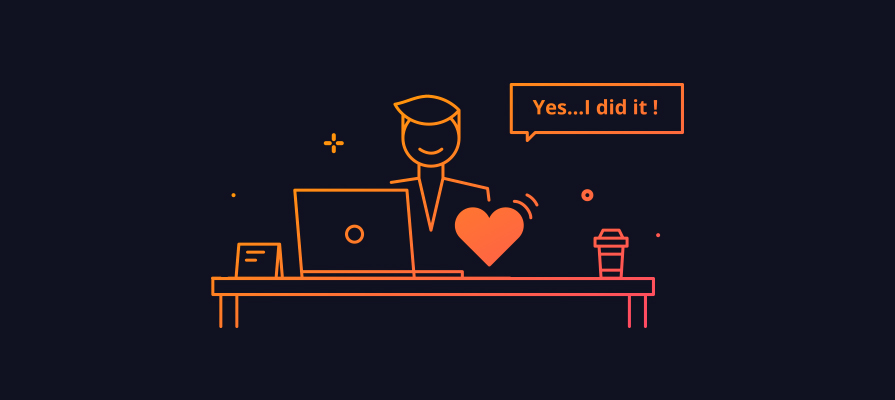 I get that when I swipe to the right on a task on my to-do list. Yes, its done when I wanted it! Studies have proven that satisfaction from small things leads to reduce the mental pressure and keep people away from depression. If an application designed in such way, to present the whole bunch of long task cue, broken into a small task that can be easily doable. Every completion will generate a sense of satisfaction in the team. More satisfied people with the work, more serenity in business place and culture – its a straight connection.
5. Employees are Humans
If employees love what they do, they deserve to love the way they are doing it. Love is at the core of our existence and basic need of every human being. The more easy, simple, joyful and humanized systems are, more people will fall in love with that. Imagine if your teams like the way they perform their task and the way the application is communicating with them in between? Isn't it just awesome?
6. Cost of Iterations & Revisions
It is often observed that when people start using software they have some feedback. One cannot build software, within the budget, that is just perfect for every use case. However, with the systematic user-centered analysis and design approach we can assess the requirement upfront, prioritize them and build something which will be much closer to user's expectation & the way they are comfortable to use it. Thereby cost of possible iterations and revision in later phases can be reduced significantly. So your upfront investment in user-centered design can significantly save later recurring expenses in maintaining or refining it.
7. Cost of Training & Support
Providing detailed training for complicated software is a costly affair. The complicated software can also lead more customer queries that put the load on customer support team.
No one ever required detailed formal training for using Facebook, Whats app or Youtube (of course these are consumer app & not an enterprise app) These social platforms are best examples of intuitive, easy to use & highly engaging applications. Teenager to senior citizen performs many complex tasks with these social applications flawlessly just by using a couple of times.
The secret of the success of such applications is overall engaging user experience and importantly very simple & well-informed design.
8. Balancing is an Art!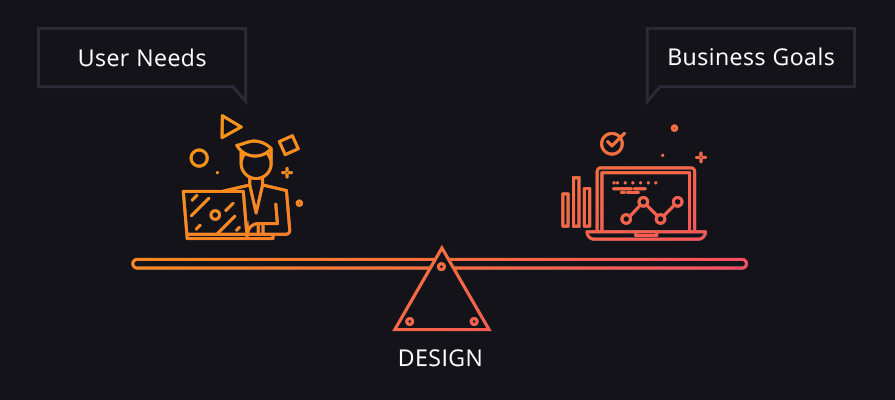 Feature rich or system centric platforms are often built by taking business needs into account. During the phase of development, its very rare that development team focus on real users, user research & their feedbacks. Everyone rushes to the functional testing, code optimization, and other development/technology centric decisions, On the other hand, design-centric process, focuses on User goals in line with Business goals and draw a solution by balancing them. Technology & Features comes in later stages if it has been identified in the research based on real usage by the user in the business process. One can really control the complexity & depth of the feature while taking user tasks, their priorities & other related factors.
The solution that only focuses on the business side and ignores the user's concern, fails to achieve business goals due to friction in operations & production.
9. Design for Error: Avoiding high risk in critical actions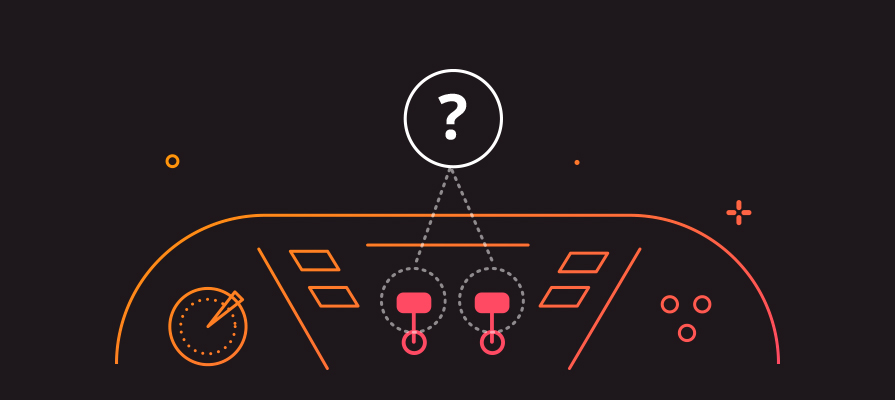 Good design & bad design is just not connected to more conversion, ease of use or customer delight but in some cases, it draws a line in between life and death. A very well known incident of B 17 Aircraft in World War Two. The landing gear and flaps control knows are identical and very close to each other. Here there was the high risk of accidentally operating wrong control.
In such cases, significant importance, time & effort should be put to consider all the possible errors and solutions to avoid or recover from these errors. If you observed your business and operations carefully, you can find very critical actions that invite huge risk in case of wrong selection by a user. A good design will be always backed up with necessary recovery options.
10. Profit by DESIGN
As reported by Design Council UK, according to research, design directly and significantly improve sales, profit, turnover, and growth.
"Every £100 a design alert business spends on design increases turnover by £225."
~ Design Council UK
Design-led businesses who use and value design can have a competitive edge over the rest. So design is not just related to aesthetic uplift or cosmetic surgery anymore.
( Source: Page Number 4, The Value of Design Factfinder report © Design Council 2007  )
11. Benefit of Multidisciplinary Design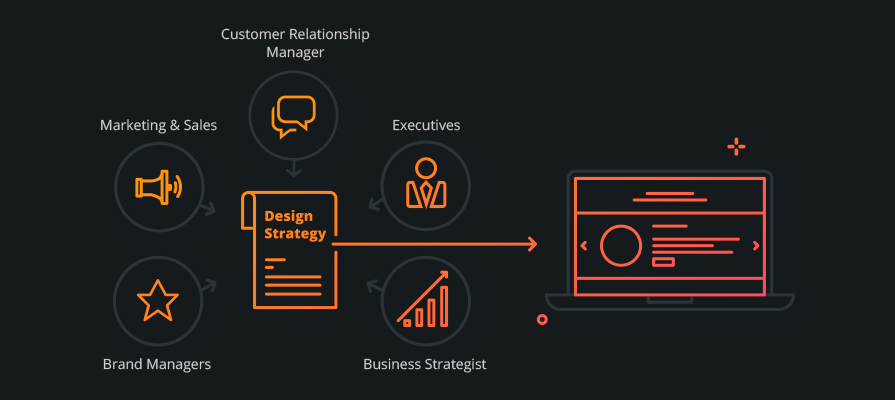 A strategic & user-centered design approach begins with taking inputs from various departments within the organization. It is a multidisciplinary design approach where Marketing & Sales, Business Development, Product Managers, Brand Managers, Executives, Customer Relationship Head, Business Strategist all these people contribute in defining the design strategy and critical success factors of the project. So the outcome ensures that it is not missing the 360-degree overview and consideration from every perspective before going live.
Great products come from great ideas, ideas are born out of the passion for solving the problems. And one can only identify a problem by looking at who is facing it (problem) i.e. the user. Design thinking is a proven way of solving user problems effectively.
I hope you enjoyed reading & find this article clarifying your doubts why one should rethink about designing an enterprise application. I have covered only a few important factors those are crucial from the business perspective. If you have any suggestions, those are welcome. Don't forget to place your feedback.
In my next article, I will try to focus on the process (HOW) for designing an enterprise application. It will be a broader overview which will address steps, milestones and important factors that business should consider when they are undergoing design/redesign exercise.
If you have further question or need assistance from an expert, please Contact Us or get connected with me on my Twitter account.